Hanya dalam bahasa Inggris
Terjemahan tertunda
Saat ini, halaman ini hanya tersedia dalam bahasa Inggris. Kami masih berusaha secara aktif menerjemahkan seluruh situs web. Terima kasih atas kesabaran Anda.
Here's your daily devotional!
If you wish to receive these free devotionals every weekday by E-mail, click the button below. Note: you'll have to log in or create your membership account first. Membership in the League is free. Join now!
Sign up to receive the Daily Devotional
""Authority Given: For Building Up and Finding Joy""
2 Corinthians 10:8
So even if I boast somewhat freely about the authority the Lord gave us for building you up rather than tearing you down, I will not be ashamed of it.
Thoughts for Today:
Choose any day -- read, watch or listen to the news -- and you will hear of multiple cases where power is abused. People have taken the gift of authority and then used it to take advantage of the people they were entrusted to protect and serve. We see a similar type of abusive leadership in some of our churches as well. It's a style of exercising authority in a way that tears people down rather than building them up.

In our passage today, Paul tells the Corinthians that his purpose is to build them up, not tear them down. It is a fine line that is often misunderstood or misapplied. True spiritual authority is given to individuals so they can become a blessing to others, not an oppressor. Those pastors or other leaders who control their ministries in a strict, demeaning and dictatorial manner are not using their God-given authority properly.

So what is the right application of authority? In 1 Peter 5:1-3, Peter instructed the elders to oversee the churches: "not lording it over those entrusted to you, but being examples to the flock". Jesus told His disciples (Matthew 23:11): "The greatest among you will be your servant." God gives leaders authority for the edification of His people (to build their faith), not to destroy them. Paul wrote in the first chapter (2 Corinthians 1:24): "Not that we lord it over your faith, but we work with you for your joy, because it is by faith you stand firm." I like that a lot! The authority Paul claimed was to do nothing more than build people up and help them find their joy.
Questions to Ponder:
How do you exercise the authority God has given you? Is it to build people up and help them find their joy? These two objectives should be the focus of anyone involved in leadership. Is it yours?
Sign up to receive the Daily Devotional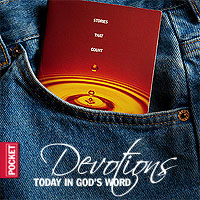 There's nothing like God's Word to create purpose in your life that lasts the entire day and beyond. We encourage you to Read, Carry and Share the Word of God. Pocket Devotions are sent by E-mail every weekday (Monday to Friday). On weekends we encourage you to be creative and study on your own in any area of Scripture where God leads you.
You can start from Day 1 at any time. Messages are sent automatically. Subscribe now! You may unsubscribe at any time.
About the author
Pocket Devotions are written by Mike Brooks. A retired businessman, he is Moderator of South Shores church, leads the Deacon Board, serves on the finance committee, and he teaches a Men's Bible study and the Men's Ministry. Mike has a passion for evangelical missions. He is the husband of Sherry; the father of Ryan, Natalie, Krissy, Rebecca, and Amanda; the father-in-law of Ariel; and the grandfather of Conner and Christian.