Hanya dalam bahasa Inggris
Terjemahan tertunda
Saat ini, halaman ini hanya tersedia dalam bahasa Inggris. Kami masih berusaha secara aktif menerjemahkan seluruh situs web. Terima kasih atas kesabaran Anda.
Here's your daily devotional!
If you wish to receive these free devotionals every weekday by E-mail, click the button below. Note: you'll have to log in or create your membership account first. Membership in the League is free. Join now!
Sign up to receive the Daily Devotional
""Compelled to Comply?""
Galatians 2:3-4
Yet not even Titus, who was with me, was compelled to be circumcised, even though he was a Greek.
Thoughts for Today:
In Acts 16:3, a similar situation had arisen related to the circumcision of another of Paul's protégés Timothy: "Paul wanted to take him along on the journey, so he circumcised him because of the Jews who lived in that area, for they all knew that his father was a Greek." What was the difference? In one case, Paul volunteered to circumcise Timothy, yet in Titus' situation he resisted. It comes down to one word in our passage today: "compelled". It is entirely possible that Paul would have encouraged Titus to submit to circumcision -- except for one thing -- other people were demanding his compliance.

We know Paul had a history of doing whatever was necessary to win people to Christ. (1 Corinthians 9:20-21: "To the Jews I became like a Jew, to win the Jews. To those under the law I became like one under the law (though I myself am not under the law), so as to win those under the law. To those not having the law I became like one not having the law (though I am not free from God's law but am under Christ's law), so as to win those not having the law.") So if Titus had voluntarily chosen to be circumcised in order to not offend the Jews, Paul would have supported his decision. However, Titus had chosen not to be circumcised, and when the Jews made an issue of it, Paul sided with Titus. Why? Because of the Gospel. As we will soon see, Paul would never force (nor compel) anyone to observe religious traditions -- especially for the wrong reasons. In this case, it would also have sent an incorrect and error-filled message.
Questions to Ponder:
We should never exercise our freedom in Christ in a way that offends the religious traditions of others. However, compliance to religious traditions cannot be substituted for a personal relationship with Jesus as Lord and Savior. Nor can those traditions be added to the Gospel of Grace. Is there any practice you have added to the gift of grace? Any requirements you must fulfill?
Sign up to receive the Daily Devotional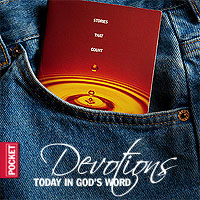 There's nothing like God's Word to create purpose in your life that lasts the entire day and beyond. We encourage you to Read, Carry and Share the Word of God. Pocket Devotions are sent by E-mail every weekday (Monday to Friday). On weekends we encourage you to be creative and study on your own in any area of Scripture where God leads you.
You can start from Day 1 at any time. Messages are sent automatically. Subscribe now! You may unsubscribe at any time.
About the author
Pocket Devotions are written by Mike Brooks. A retired businessman, he is Moderator of South Shores church, leads the Deacon Board, serves on the finance committee, and he teaches a Men's Bible study and the Men's Ministry. Mike has a passion for evangelical missions. He is the husband of Sherry; the father of Ryan, Natalie, Krissy, Rebecca, and Amanda; the father-in-law of Ariel; and the grandfather of Conner and Christian.