Hanya dalam bahasa Inggris
Terjemahan tertunda
Saat ini, halaman ini hanya tersedia dalam bahasa Inggris. Kami masih berusaha secara aktif menerjemahkan seluruh situs web. Terima kasih atas kesabaran Anda.
Here's your daily devotional!
If you wish to receive these free devotionals every weekday by E-mail, click the button below. Note: you'll have to log in or create your membership account first. Membership in the League is free. Join now!
Sign up to receive the Daily Devotional
"Burning the Implements of Sin"
Acts 19:19
A number who had practiced sorcery brought their scrolls together and burned them publicly. When they calculated the value of the scrolls, the total came to fifty thousand drachmas.
Thoughts for Today:
In Paul's time, as a rule of thumb a drachma was worth the rough equivalent of one day's pay of a highly skilled worker. The United States Department of Labor tells us that the average national salary in 2007 was $861 per week or $172 per day. That means, in today's economy the value of the scrolls burned exceeded $8,610,000. That's a seriously expensive bonfire. Some might even think it was a gigantic waste of money, but was it?

Our devotion today is titled, "Burning the Implements of Sin;" I chose that title because the dictionary defines an "implement" as a "tool (a useful piece of equipment, usually a specially shaped object designed to do a particular task)." Let me pose a question in today's terms: "Is a Playboy magazine an implement of sin?" Of course it is because the editors of the magazine have specifically designed it to generate and ignite lustful thoughts in men for women who are not their wives (Proverbs 6:25, "Do not lust in your heart after her beauty or let her captivate you with her eyes"). That brings us back to the bigger question of the day and that is "As a Christian, if you inherited a home from a distant relative and found abandoned in the garage a collection of Playboy magazines worth $8,610,000 -- would you burn them or sell them?" Your answer will tell you a lot about where you are spiritually.
Questions to Ponder:
What do you do with the implements of sin in your life when you want to change? Do you keep them around so as not to be wasteful; place something on EBay and sell it to the highest bidder; or completely destroy it? We know what the believers in Ephesus did -- they "brought their scrolls together and burned them publicly." I always think it's interesting how we can passively agree with Scripture about how "fifty thousand drachmas" worth of scrolls were burned, then not be as resolute about doing so in our own lives. What residual of sin do you still keep around? Perhaps its time to do some house cleaning and have a bonfire of your own; it might be expensive on the surface but priceless in God's economy.
Sign up to receive the Daily Devotional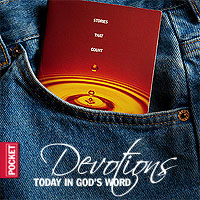 There's nothing like God's Word to create purpose in your life that lasts the entire day and beyond. We encourage you to Read, Carry and Share the Word of God. Pocket Devotions are sent by E-mail every weekday (Monday to Friday). On weekends we encourage you to be creative and study on your own in any area of Scripture where God leads you.
You can start from Day 1 at any time. Messages are sent automatically. Subscribe now! You may unsubscribe at any time.
About the author
Pocket Devotions are written by Mike Brooks. A retired businessman, he is Moderator of South Shores church, leads the Deacon Board, serves on the finance committee, and he teaches a Men's Bible study and the Men's Ministry. Mike has a passion for evangelical missions. He is the husband of Sherry; the father of Ryan, Natalie, Krissy, Rebecca, and Amanda; the father-in-law of Ariel; and the grandfather of Conner and Christian.